Kansas City, MO's Salon for Hair Coloring and Hair Styling
We take pride in creating a warm and welcoming atmosphere where you can kick back and feel right at home. Our music selection is top-notch and always gets our customers grooving. Our team is passionate about making you feel amazing, and we're all about spreading good vibes and positivity.
We specialize in creating natural-looking, dimensional blondes and brunettes that have that effortlessly chic vibe, but we're also pros at covering those pesky grays or getting creative with vivid fantasy colors. Our goal is to make you feel confident and beautiful, and we promise to have a blast while doing it. 
Professional Brands We Use
At Salon Inspire we believe in making a difference beyond our bottom line. Giving back to our community is an integral part of our company culture, and we're proud to support a variety of charitable causes and initiatives that align with our values. As a member of our team, you'll have the opportunity to not only grow professionally but also contribute to something larger than yourself.
Whether it's through our partnership with the Ronald McDonald House, our community serve days, or our global outreach in serving our industry, you'll be able to make a tangible impact on the world around us and abroad. If you're looking for a company that
prioritizes social responsibility and values employees who share that commitment, Salon Inspire is the place for you.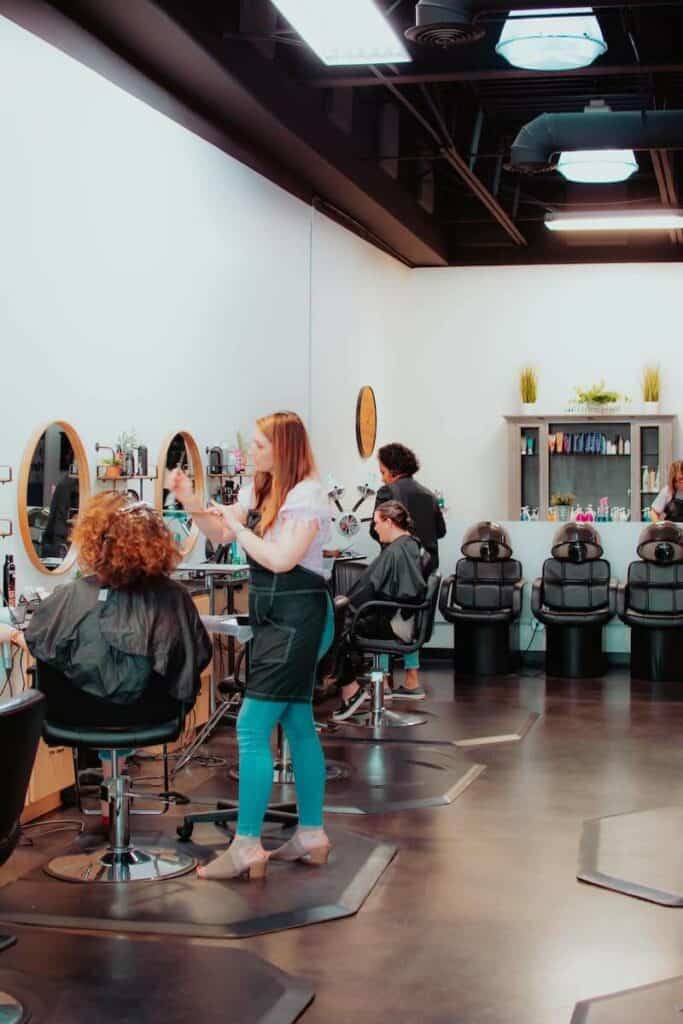 Our team of hair stylists operates on a level-based system that is designed to recognize and reward their skills and expertise. Each stylist is assigned a level based on their experience, education, and demand for their services. As their skills and reputation grow, they have the opportunity to advance to higher levels within the salon. 
This system ensures that our clients receive exceptional service from our team of talented and dedicated professionals. Whether you're looking for a simple haircut or a complex color treatment, you can be confident that you'll receive the highest level of care and attention from our team of expert stylists at Salon Inspire.
We are proud to offer an Associate Stylist program that provides a unique opportunity for our associates to work alongside our experienced stylists and gain valuable hands-on experience. Our associates are fully licensed and trained to perform a wide range of services, including but not limited to highlighting, color applications, toner applications, shampoos, and finishing. 
They are eager to assist you with all your hair care needs and are committed to making your visit exceptional. We invite you to get to know our talented associates and experience the exceptional service they provide at Salon Inspire.
In order to protect our stylist's time, missed appointments will be charged 50% of the scheduled services. We reserve the right to adjust for clients with a history of last-minute cancellations and/or no-shows.
I am so happy I found Tameka at Salon Inspire. She is now the only person I want to trust to cut and color my hair!! Everyone is super nice too. They can make appointments around my schedule and always offer me something to drink. I can't thank Tameka enough for the amazing attention to detail she puts into my haircuts. I get such consistent service.
A Team Of Professional Hair Stylists
Find Your Perfect Hair Stylist in KC
Monday – Friday: 9:00 AM – 8:30 PM
Saturday: 9:00 AM – 5:00 PM